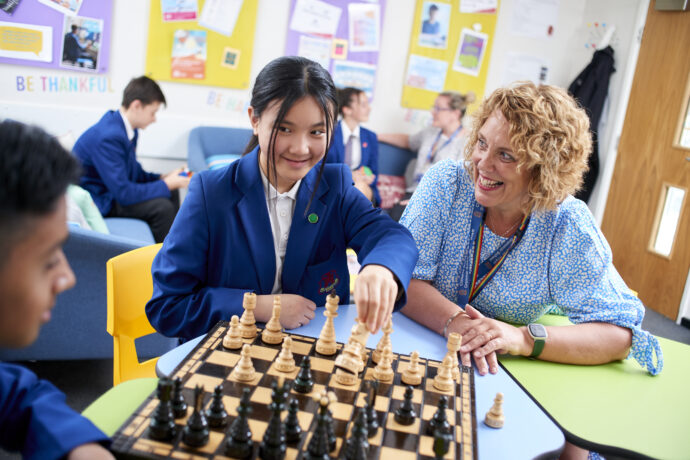 Thank you for visiting our website.  Please click here for a virtual tour of our Main School site.
We are extremely proud of the Main School at Clitheroe Royal Grammar School and the outstanding achievements of our students. We are committed to providing a supportive, challenging and stimulating learning environment where students are able to make outstanding progress and achieve academic excellence.
We firmly believe that in order to fulfil their potential, young people must feel safe, secure and supported at school. Our strong pastoral systems and caring ethos help to ensure that our students feel valued as individuals and yet part of a strong, diverse learning community.
We encourage students to act with responsibility and consider the impact of their actions on others. As a result, student voice surveys consistently report positively about the caring school community and how, as a relatively small secondary school, students feel valued, known and respected. In addition, students are encouraged to fulfil leadership roles within our school and there are opportunities for this in every year group.
Our expert, dedicated and committed teaching and pastoral staff work hard to ensure that students enjoy their time at CRGS and achieve the very best grades possible at GCSE. We carefully manage the transition into Main School from over 40 feeder primary schools and then into further education after Year 11. The vast majority of Main School students move on to Advanced Level study at our own excellent Sixth Form.
We offer a wide variety of extra-curricular opportunities and enrichment activities, designed to broaden our students' experiences and understanding of the world. Many of these are student-led and happen within the school day. We are always developing new opportunities in this area so that there really is something to meet everyone's needs and interests.
"Leaders take pride in empowering pupils and students to be ambassadors and facilitators of change in school. Pupils and students fully embrace the leadership opportunities that are on offer. They often lead their own clubs, deliver assemblies, support events and drive charitable initiatives. Student leaders are exceptional role models for their younger peers."

— Ofsted November 2022
In all previous Ofsted inspections our school has been rated as 'Outstanding' and we enjoy both a local and national reputation for excellence.
You may contact us at any time to arrange a visit. We look forward to welcoming you to Main School in the very near future.