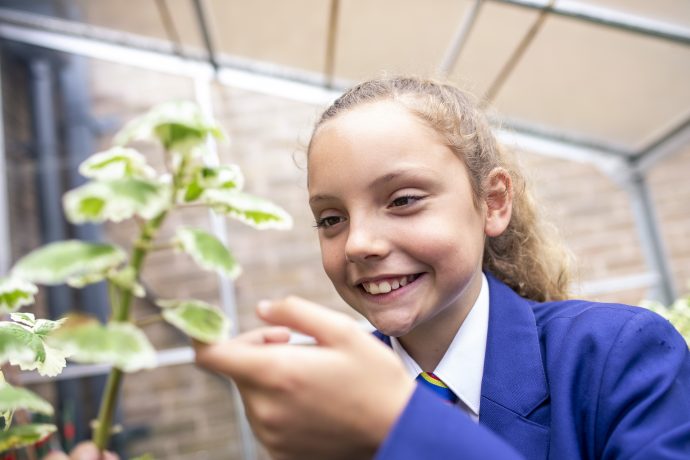 Welcome to Clitheroe Royal Grammar School. This section is aimed at students who are joining us in September but will also give prospective students and parents information about aspects of school life.
New students and parents are invited to our New Entrants Evening in the summer term where they have the opportunity to meet key staff and receive information to help make a smooth transition into the school. Students also spend a morning in school in the summer term to experience school life before they leave their primary school.
We hope you will find the information on this page useful. If you don't find the answers to any of your questions, please do not hesitate to contact us at mainschool@crgs.org.uk.  This link will take you to a PowerPoint presentation aimed at students transferring from primary to secondary school.
Induction
What will happen on my first day?

Please come to the Main School for 8.45am.  You will start school one day earlier than the rest of our year groups and will spend the first day with your Peer Mentor completing lessons and induction sessions.  School buses run as normal on the first day.  You will be given your timetable and a tour of the school.  You will also spend time with your form group getting to know other students.

Is it easy to get lost at school?

Although CRGS is probably a lot bigger than your primary school, you will soon find your way around.  All the classrooms are numbered and you will find a map of the building in your planner to help you.  If you do get lost or are not sure where to find a particular room, just ask for help or go to the Main Office.

How will I be helped to settle in?

We have a dedicated team of pastoral staff who are experienced at helping students settle into school.  If you have any worries speak to your Peer Mentor, Form Tutor or Head of Year as soon as possible and we will help.  Everyone has a mixture of emotions at the start of a new school year, including students who have been with us for a few years and even the staff!  The good news is that after a few nervous days we all settle into enjoying school life.
Student Support
Who will support me and monitor my progress?

Your Form Tutor is the person who will provide you with the most support during your time at the school, along with other students in your form. You will be allocated to a form group of 30 students. Your Form Tutor will remain with your form throughout your time at the school as will your Head of Year. In the first year you will have all of your lessons with your form group. This helps you to get to know the other students in your form really well.

There are also lots of other staff in school to help, including other pastoral staff, staff in our school office and our school counsellor.

Is there much bullying at school?

No!  CRGS is a very friendly school and it is very rare that there is bullying of any kind.  If you do have a problem it is important that you tell someone straightaway so that the problem can be sorted out quickly.
The School Day
What are the times of registration, lessons and breaks?

Students start the day at 8.45am with registration at 8.50am each morning.  On Monday, Tuesday, Thursday and Friday there are five lessons.  On Wednesday there are four lessons.  Each lesson lasts for one hour and there are three lessons in a morning.  There is a 15-minute break between lessons in the morning and afternoon and we have a one-hour break at lunchtime.

What are the arrangements for lunchtime?

Lunchtime is from 12.30pm – 1.30pm.  There are many clubs and activities run by many departments and by students.  You can buy lunch in our Canteen.  A wide variety of good quality, reasonably priced food is available at both morning breaks as well as at lunchtime.  Alternatively, you can bring your own lunch from home.  The food at CRGS is really good and it is available at both morning breaks as well as at lunchtime.
Studying at CRGS
How many subjects will I study?

In Year 7 you will continue with many of the subjects that you have studied at primary school including Maths, English, Science, Religious Studies, PSHE, Citizenship, Art, Music and Physical Education.  There are also many other subjects that you may have previously studied in topic or project work at primary school such as History, Geography, Food Technology, Graphics, Textiles and Computing.  Your timetable will also include two Modern Foreign Languages: Spanish and French.  As you progress through the school, the curriculum will broaden to include the 3 separate Sciences: Biology, Chemistry and Physics as well as Drama and Latin.

What are the main differences between primary school and CRGS?

At primary school you will have mainly been taught by one teacher and most of your lessons will have taken place in the same classroom.  At CRGS you will have a different teacher for each subject.  You will have 15 teachers including your Form Tutor and will have your lessons in many different rooms.  At first it feels strange to have to move from room to room and carry your books and pens from one room to another but it quickly becomes normal and by the end of the first half-term you will think it was strange to have spent all day in the same room!

At CRGS we also set more homework than you might have completed at primary school.  You should expect to complete around one hour of homework each day.  You can use some of your lunchtime to use the computer suites to complete tasks that require a computer.

How can I keep organised?

You will be given a planner at the start of term and it is important that you organise and manage your time effectively so that you know what needs to be done and when it has to be handed in.  As part of your induction we will discuss different strategies to help you organise and manage your time.  We also offer small group Study Support sessions in our Library.

What ICT facilities are provided?

We have 4 dedicated ICT rooms, 3 of which are available to students at break and lunchtimes.  There is a Language Lab in the Language Centre which is used during lessons.  We also have devices available for use in the Library.
Getting to Clitheroe
How do I get to Clitheroe?

Lancashire Bus Services provide some transport services to Clitheroe Royal Grammar School. These are limited in places and you are advised to apply for transport as soon as possible after confirming your place at the school. Contact the School Transport Line on 0300 1236738 who will be able to answer all your questions relating to School Bus Services. For further information about public transport contact Lancashire Traveline on 0871 2002233 or visit www.traveline-northwest.co.uk.

For students travelling from Burnley and Pendle the 837 bus service is available from Colne via Nelson, Brierfield, Burnley, Padiham and Read. Places on this service are limited and offered on a first come first served basis. Please contact Customer Services at Burnley and Pendle on 01282 427778 for further information.
Attendance
What happens if I am unable to attend?

Excellent attendance is important if students are to achieve their potential. If you are ill, a parent / carer should contact the Main School either by email mainschool@crgs.org.uk or by telephone 01200 423379 before 9.00am when registers close.

Permission to take holidays during term time is only granted in exceptional circumstances and a letter must be sent well in advance detailing the request. Letters should be addressed to Mr J M Keulemans (Headteacher).

What happens if I feel unwell during the day?

If you feel unwell during the school day you should report to Reception and we will help you.  If you are too unwell to remain in school we will contact a parent / carer wherever possible.  It is important that we have contact details for a member of your family or a friend of your family who is available during the day.
Uniform
What are the uniform regulations?

Please see the current Uniform and Equipment Guidelines  (Main School).  Please remember that whenever you are wearing our uniform you are representing the school.

Where can I buy my uniform?

You can buy your uniform from either Gray's Schoolwear (Clitheroe or Blackburn) or Ribble Valley Supplies (Clitheroe).